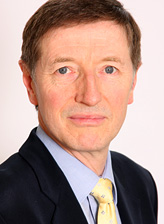 Expertise
Executive Coach - John's style focuses on developing the clients 'Signature Presence', their self-confidence and authority that enables them to fulfil their leadership role. His psychological experience means he can quickly identify what the client has to change in their attitude and behaviour, then provide a challenging programme of activities to ensure the learning is embedded in their role.
Team Coaching – John enjoys working as a Team Coach helping leaders and managers develop their interpersonal relationships and collaboration round the 'joint endeavour' so they become more effective and influential in directing the business to be successful. John is leading Europe's first Masters level Systemic Team Coach training programme with an approach that is rapidly developing a reputation for greater impact in organisations.
Large & Small Group Facilitation – having facilitated professional and personal development groups for 30yrs in many different settings, John is experienced in handling difficult and contentious situations from the downright hostile to the bored and disinterested, as well as mobilising excitement and energy to become a high performance team.
Business Mentor - A further area of expertise is mentoring around the creation and implementation of business strategy. As an entrepreneur himself he has a keen eye on how to develop business capability and the nature of leadership in this environment.
Inspirational Presenter - John has been a keynote and workshop presenter for 20 years with over 200 public appearances at regional, national and international conferences and corporate events. He is committed to delivering inspirational, dynamic, experiential & educational learning to his audience. As a passionate Tango dancer he has found a powerful parallel between coaching, leadership & Tango. Delegates at his conference presentations have found it extremely insightful, great fun and a wonderful way of connecting with others.
Expert Trainer – by skilfully combining coaching capability with group facilitation and expert knowledge in his fields, John has become a consummate trainer. He is able to inspire confidence, be challenging and create safety so his trainees take risks and learn from mistakes. As a result students rapidly learn new skills with a lot of energy but not much effort. He can also work fluently with translators in foreign languages.